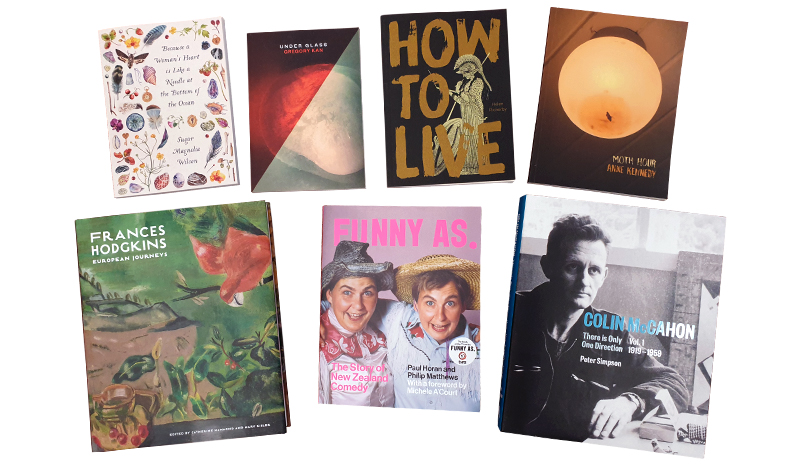 Seven Auckland University Press books have made the cut of the 2020 Ockham New Zealand Book Awards longlist featuring heavily in the poetry and illustrated non-fiction categories.

In the longlist for the Mary and Peter Biggs Awards for Poetry are Under Glass by Gregory Kan, Moth Hour by Anne Kennedy, How to Live by Helen Rickerby, and with her acclaimed debut book, Sugar Magnolia Wilson's Because a Woman's Heart is Like a Needle at the Bottom of the Ocean.

In the Illustrated Non-Fiction Award is Frances Hodgkins: European Journeys by Mary Kisler and Catherine Hammond, Funny As: The Story of New Zealand Comedy by Paul Horan and Philip Matthews, and Colin McCahon: There is Only One Direction, Vo. 1 1919-1950, the first volume of Peter Simpson's in depth look at the career of Colin McCahon.
The 40 books longlisted for the 2020 Ockham New Zealand Book Awards announced on the 30th January 2020 are a wide-ranging and inspiring collection reflecting the diversity of contemporary Aotearoa and the excellence of our writers, artists and publishers.
Traversing cultural, historic, artistic and political landscapes, the longlisted books explore who we are as a nation, from our social issues and natural environment, to the lives of our artists and explorers, imagined experiences and worlds. The list features exciting debut writers as well as a number of previous award-winners and literary stars.
Ten books are longlisted in each of the four awards categories – fiction, poetry, illustrated non-fiction and general non-fiction.
'This year's awards drew over 170 entries, a 12 per cent increase on the previous three years,' says the New Zealand Book Awards Trust's Dr Paula Morris. 'We're seeing an unprecedented number of brilliant and beautiful books, with this wide-ranging longlist a distillation of the best for readers to devour. Competition will be fierce in all categories.'

The 2020 Ockham New Zealand Book Awards shortlist of 16 titles will be announced on 4 March 2020. The winners, including the four MitoQ Best First Book awards, will be announced at a ceremony on 12 May as a marquee event during the 2020 Auckland Writers Festival.

AUP wishes good luck to all of the books nominated for the longlist.
Click here to find out more about the longlisted titles.