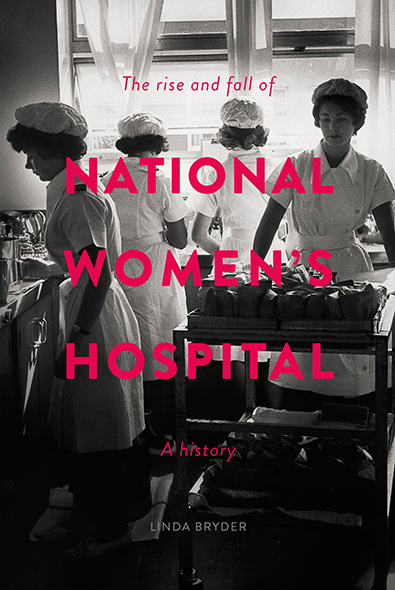 Iconic National Women's Hospital spent nearly a half-century at the cutting edge of the women's health and reproduction in New Zealand – natural childbirth and rooming-in; artificial insemination and in vitro fertilisation; sterilisation and abortion. It was the major site here for scientific advances, the forum where science confronted ethical and political dilemmas and enjoyed a high international reputation for many years.
Established in Auckland in 1946, with a purpose-built building that opened in 1964, National Women's was the home of medical breakthroughs by Sir William Liley and Sir Graham Liggins; of the Lawson quintuplets and the 'glamorous gynaecologists'; and of scandals surrounding the so-called 'unfortunate experiment' and the neonatal chest physiotherapy inquiry.
In The Rise and Fall of National Women's Hospital, author Linda Bryder traces the evolution of National Women's in order to tell a wider story of reproductive health in this country.
'Through exploring the hospital's social history and the interaction of its staff with patients, consumer and professional groups, and the government,' she says, 'this book will contribute to our understanding of the broader development of services relating to reproductive health during the second half of the twentieth century.'
'The Rise and Fall of National Women's Hospital will also contribute to the international literature by challenging some popular assumptions about the history of childbirth, activist women's groups, and the medical, midwifery and nursing professions in New Zealand,' says Professor Bryder.
The Rise and Fall of National Women's Hospital is available in print and ebook formats.
Linda Bryder– herself born at National Women's Hospital – is a professor of history at the University of Auckland and holds an honorary chair at the Centre for History in Public Health, London School of Hygiene and Tropical Medicine. She completed her DPhil in the history of science at the University of Oxford in 1985 and was founder editor of the Oxford journal Social History of Medicine.
She is the author of A History of the 'Unfortunate Experiment' at National Women's Hospital and A Voice for Mothers: The Plunket Society and Infant Welfare 1907–2000; editor of A Healthy Country: Essays on the Social History of Medicine in New Zealand; and joint editor with Janet Greenlees of Western Maternity and Medicine, 1880–1990.
Professor Bryder has served as president of the Australian and New Zealand Society of the History of Medicine and the New Zealand Historical Association, and she is also a fellow of the Royal Society of New Zealand.