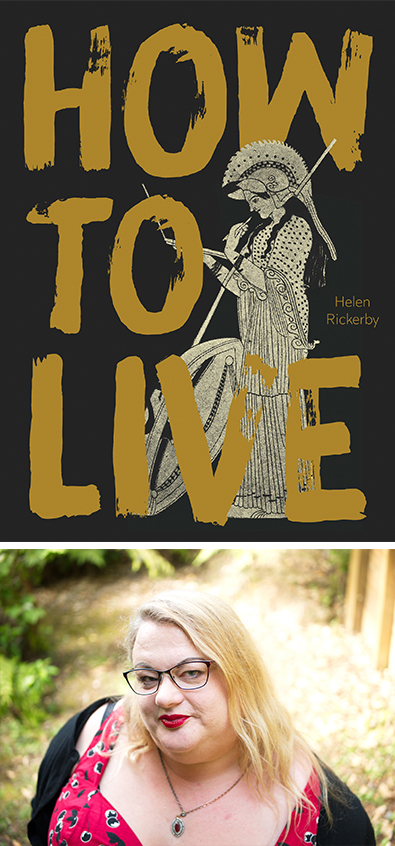 Wellington writer, editor and publisher Helen Rickerby has won the Mary and Peter Biggs Award for Poetry for her collection How to Live (Auckland University Press) at the 2020 Ockham New Zealand Book Awards.
"How to Live names, excavates and exhumes both silenced and previously muffled women. There is a power in naming them and exploring their stories, like a poetic version of war memorials dotted throughout our cities and regions, villages. In doing so, these women get an identity, a voice, and an intergenerational existence.
This collection of poetry demands much of us: to move, to discover, to challenge, to chastise, to entertain, to teach, to dare and to awaken…It doesn't back down from a societal lesson that, unfortunately, still needs repeating, and often," said the category judges.

Auckland University Press director, Sam Elworthy, said "Well what a great group of Ockham poetry finalists in 2020 and we were lucky enough to have both Anne Kennedy's Moth Hour and Helen Rickerby's How to Live there on the big, virtual, socially distanced night. And such a pleasure to see Helen Rickerby take out the Peter and Mary Biggs Poetry Award. Helen's work feels so fresh and innovative, drawing the prose poem in new directions while taking us readers on a wonderful journey through women in history. All our best to Helen and all of the other great winners last night."

Helen Rickerby's warm acceptance speech perfectly summed up her feelings on the award during these strange times:
"Kia ora koutou. Wow, thank you so much – to the awards trust and the sponsors – especially Mary and Peter Biggs, who sponsor this award – thank you for caring about poetry. I also want to acknowledge my fellow finalists – Anne, Ashleigh and Steve – all lovely people as well as fine poets, and I'm very sad we can't hang out tonight.
Thank you also to the people who have supported me and this book – especially my first readers Anna, Angelina and Sean, everyone at Auckland University Press for publishing it and making it so pretty. And also the people and publishers who have supported me earlier in my poetry career – or rather vocation.
I thought a lot about how to live while writing this book, but I haven't stopped, and I know it's a topic many of us have been thinking a lot about over this very strange last couple of months. I hope it's something we never stop thinking about – how we can do it better, as individuals and also as a collective. I think this crazy time has made us realise what matters to us – how much lives matter – and has also made us really creative and inventive in how we can do things differently – things like working, housing homeless people, communicating and running book awards. I am hopeful we won't go back to everything about normal life as it was, but will instead try to live a bit better."
Paula Morris, a trustee of the New Zealand Book Awards Trust, which governs the Ockham New Zealand Book Awards, says: "This was another extremely competitive year, with a diverse range of outstanding books, reflecting the creativity and vibrancy of our local publishing. It's also a year of surprises, with two debut writers taking home big prizes. You can learn more about the winners of the 2020 Ockham New Zealand Book Awards here.
"The winning books explore the political and the personal – to quote Helen Rickerby, 'all kinds of lives'. Through them we travel from Dunedin to Ancient Greece, from beaches to stages to pubs to street protests."
The judges of the Mary and Peter Biggs Award for Poetry were publisher and acclaimed poet Kiri Piahana-Wong, poet Tim Upperton,whose collection The Night We Ate the Baby was anOckham New Zealand Book Awards finalist in 2016, and Dunedin bookseller Phillippa Duffy, whose two decades in the book industry include publishing and board positions.